Computer Science
Computer Science has become indispensable part of all disciplines and has given a face-lift in the technological advancement of the developed countries and the entire world. It advances in many fields of study such as Science, Mathematics, all spheres of Engineering, Medical, Management, Modern manufacturing's, business developments and has contributed to the development of these fields.
Today it is an established area of scientific study of its own right and become inseparable for the existence of our human being. The Department has multidisciplinary courses in Computer Science and it enables the students to be employable or explore new horizons in the path of higher studies and research. Students choose to major in computer science for a variety of reasons. Owing to the fact that information technology has made an impression in every discipline, most of our students graduate in these computer-related careers and get placed in private, public and government sectors in different disciplines.
1
STUDENTS GRADUATED
1
FACULTY STRENGTH
1
%
PLACED STUDENTS
Our Aim
Developing technical knowledge with contemporary & integrated technology and holistic education to make worthy members of the global society.
Imparting computer education and generating innovative knowledge for global competence & excellence in quality.
Acquiring indepth knowledge in the study of Compute Science through technical training in the evolving technology to solve real time problems.
Courses
| | |
| --- | --- |
| Course offered | Eligibility |
| B. Sc Computer Science | A Pass in Higher Secondary Examination |
| M. Sc. Computer Science | A pass with Second class (50% of marks in B. Sc., Computer Science/ B.C.A.,/ B. Sc., Computer Technology / B. Sc., Information Technology/ B. Sc., Electronics) |
| M.Sc. Data Analytics | A Pass in any Bachelors degree of minimum 3 years duration with Mathematics or Statistics as any one of the subjects at Graduate level. |
| M. Phil. / PhD Computer Science | Eligibility is prescribed by Bharathiar University and candidates are advised to refer to the university website. Application form and Prospectus can be obtained from the University. |
Memorandum of Understanding
Sify Technology Limited, Chennai
MeriTrac System Private Limited, Mumbai
ICTACT,Government of India
NCVT,Government of India
Point Perfect Technology Solutions
Clusters Academy of Excellence
Skill Training Programme & Placement
Success is something you attract by becoming an attractive person. For your economic safety you need to have multiple success skills and Language Skills"
Focusing this in Mind, the Computer science department is organizing regular IT Forums for its students for enhancing IT, Employability skills by giving them valuable coaching, so that they can get jobs in leading IT Companies.
These IT Forums are tailored to the Industry needs, so that students will be asset to any company that employs them.
Applying the knowledge of programming skills leading to solutions for complex problems.
Imparting higher degree of technical skills in problem solving and application development.
Enhancing analytical and managerial skills to gear employment potential for a holistic professional career.
Staff Profile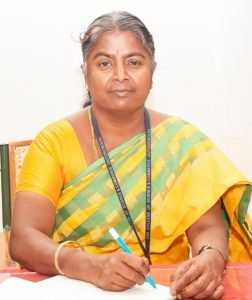 Mrs. V. Sarasvathi
M.C.A., M.Phil
Head and Associate Professor, Department of Computer Science.
Faculty Name
Designation
Contact
Mrs.V.Sarasvathi
M.Phil/Ph.D
Associate Professor & Head, Department of Computer Science
vsarasvathi@gmail.com
Dr.B.Sumathi
M.Sc,M.Phil.,P.hD.,
Associate Professor
sumathithamizh@gmail.com
Ms.R.Sunitha
M.Sc,M.Phil.,
Assistant Professor
sunithar2001@yahoo.co.in
Ms.D.Sumathi
M.Sc.,M.Phil
Assistant Professor
dsumathi17@gmail.com
Mr.B. Karuppusamy
M.Sc.,M.Phil
Assistant Professor
karuppusamy@cmscbe.com
Ms.C.Thilagavathy
M.C.A.,M.Phil.,
Assistant Professor
thilaga.c@gmail.com